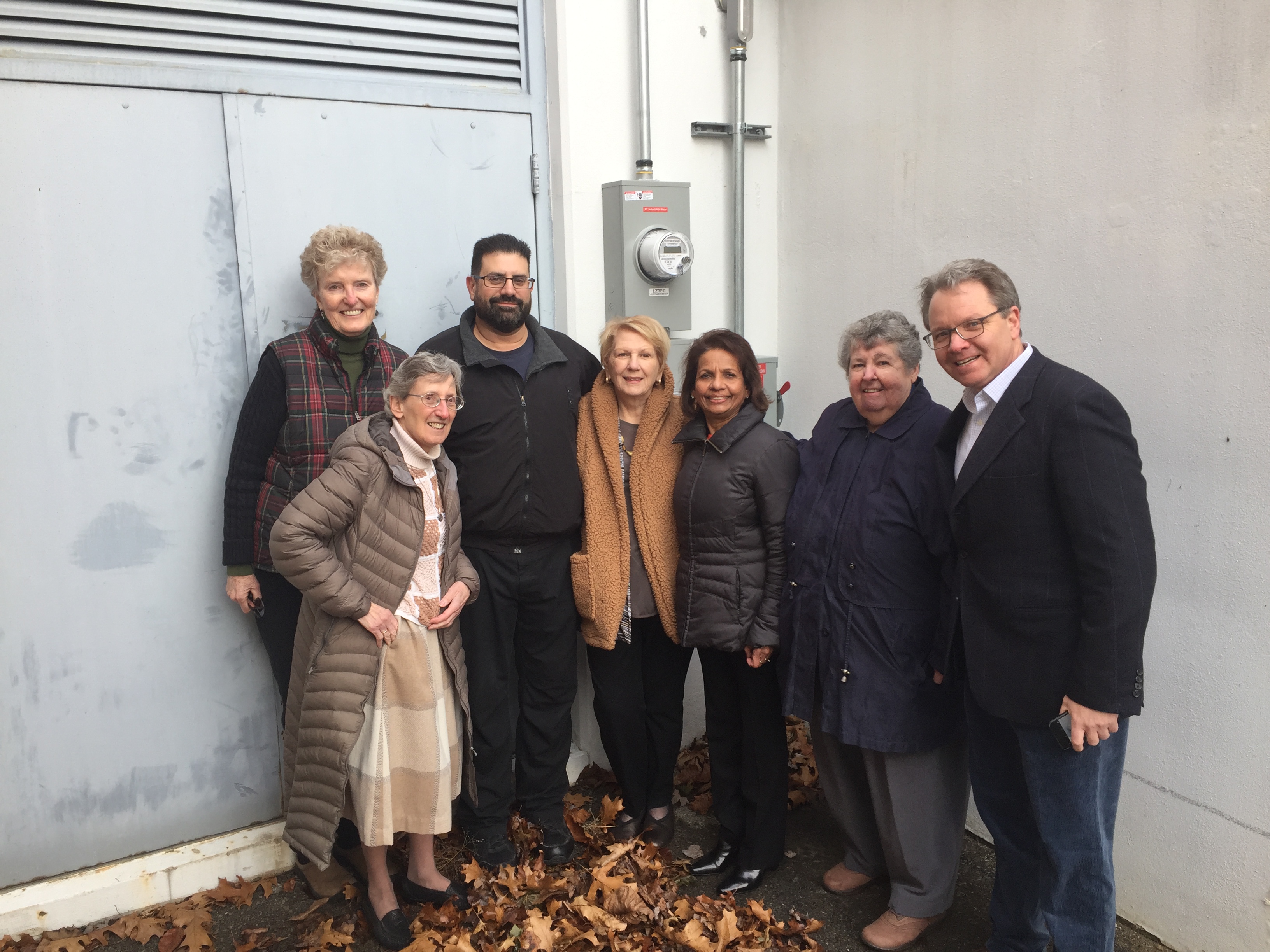 The School Sisters of Notre Dame of the Atlantic-Midwest Province are showing their commitment to ecological responsibility by establishing solar power at their complex on Belden Hill Road in Wilton Connecticut.  On December 17, 2018 they turned on their two solar arrays – a 122 kW ground-mounted system (Solar Garden) and a 37 kW roof-mounted system (on top of Lourdes's Healthcare Center) – for the first time.
"Our SSND Directional Statement calls our congregation to discern and address urgent and critical global needs and to respond boldly in unsuspected ways," says Sister Charmaine Krohe, Provincial Leader of the Atlantic-Midwest Province, which includes the Wilton facility. "In light of the recent report from the Intergovernmental Panel on Climate Change – which states that the crisis of Global Warming is already manifest in the rise of global heatwaves, fires, droughts and floods – our province's decision to decrease its dependence on fossil fuel energy is timely and a visible sign of our effort to address a critical global concern of the day – global warming. The implementation of these solar projects is one of many ways in which we are acting on our commitment to environmental stewardship."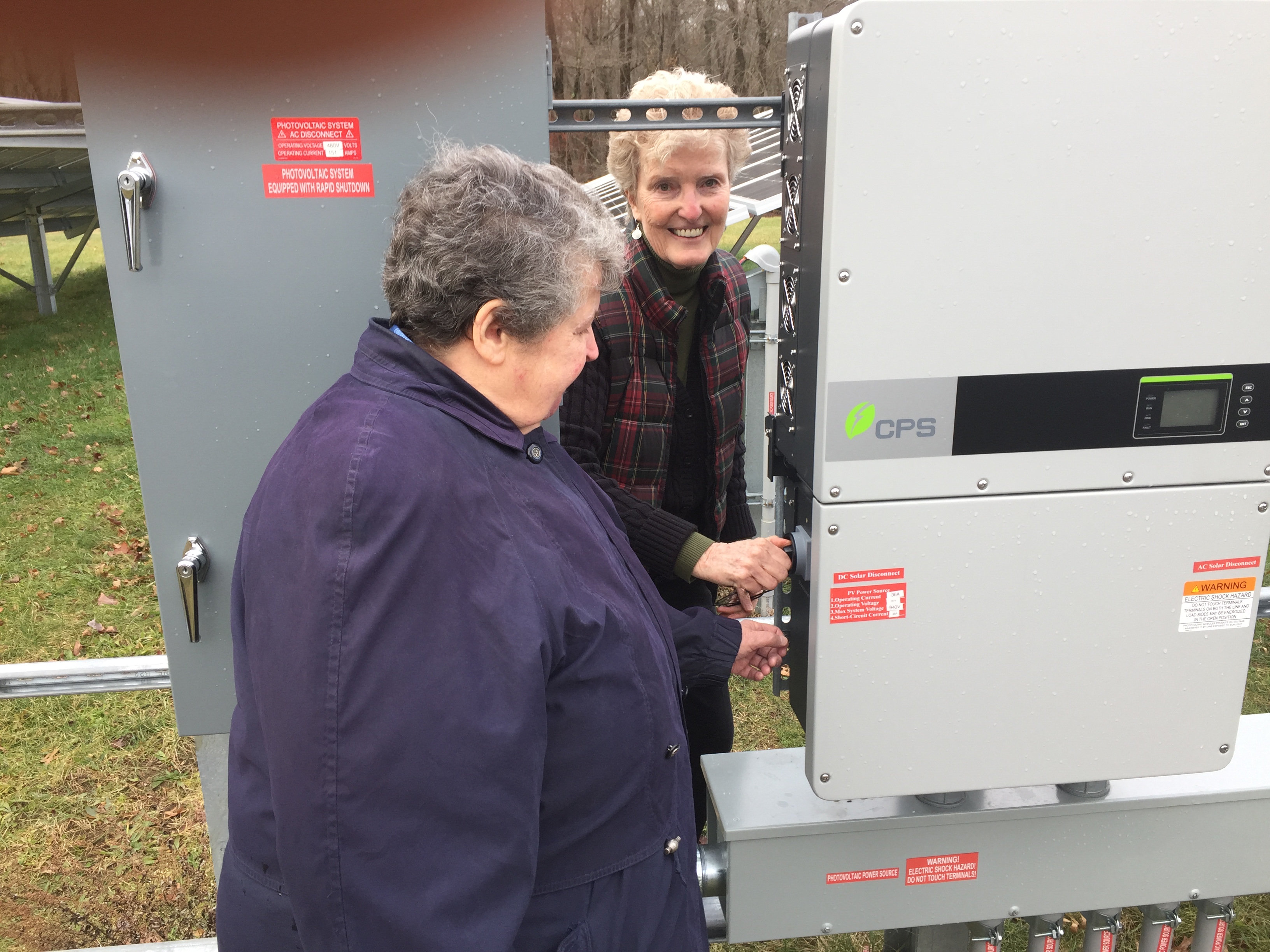 This project is the final component of a comprehensive energy project for the Belden Hill Road property that encompasses the Sisters' efforts to increase energy efficiency, reduce operational costs and generate renewable energy. MHR Development partnered with the province to evaluate all of the facility's energy and water resource demands, as well as occupant comfort needs, to craft a master sustainability plan. 
Together, the two systems are expected to generate approximately 200,000 kWh/year, or 25% of the facility's electrical load. Moreover, the solar installations will generate approximately $20,600 per year in renewable energy credits that will help underwrite the systems' cost. It is estimated that the project will offset 510 tons of carbon dioxide from the atmosphere annually, and that there will be a net reduction of 400,000 kWh in grid power used annually.
"The properties at the School Sisters of Notre Dame in Wilton were in great need of sustainability upgrades. Mark Robbins and his team at MHR Development were with us through every step," said Tom Antignani, Director of Plant Operations, Villa Notre Dame. "From water conservation, LED lighting upgrades, energy efficient boiler plant, to solar, we could not have done this scope of a project without MHR."
"We applaud the Sisters' commitment to decreasing their dependency on fossil fuels in the face of Climate Change," said Bryan Garcia, President and CEO of the Connecticut Green Bank. "The Green Bank is proud to be part of this project, with our financing partner Onyx Renewable Partners, that will reduce the Sisters' energy burden while helping them serve their mission of empowerment to those in need. Investments in green energy like this provide a gateway to inclusive prosperity."
About the School Sisters of Notre Dame
The congregation of the School Sisters of Notre Dame is an international community of women religious. The sisters educate with a world vision, believing that the world can be changed through the transformation of persons. The sisters and their colleagues seek to empower women, youth and persons who are poor or marginalized and strive to change systems of poverty and injustice. Approximately 2,500 SSNDs currently minister in 30 countries. 
About Onyx Renewable Partners L.P.
Onyx is a renewable energy development company established by funds managed by Blackstone Energy Partners that is focused on greenfield development in the North American solar and wind sectors.  The Onyx team brings over 250 years of collective industry experience and perspective, having developed more than 1 GW of renewable projects.  As a full service firm with capabilities including development and construction through financing and operations, Onyx is able to provide creative solutions to large energy users and land owners in North America. Onyx prides itself on its ability to bring together exceptional talent with deep industry knowledge to solve challenging issues for customers looking to maximize renewable power generation.  Onyx is headquartered in New York City.
Please direct all media inquiries to Caelie Haines, Communications Director, School Sisters of Notre Dame, at (410) 377-7774, x1164.